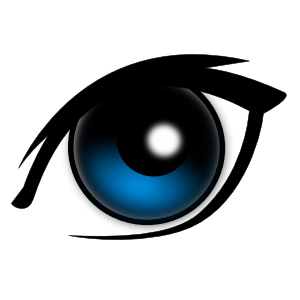 From the very beginning, after Adam and Eve first sinned by eating of the Tree of the Knowledge of Good and Evil, mankind has had the ability to discern good from evil. Their eyes were opened and their knowledge of sin became evident.
"You will not surely die," the serpent said to the woman. "For God knows that when you eat of it your eyes will be opened, and you will be like God, knowing good and evil."
When the woman saw that the fruit of the tree was good for food and pleasing to the eye, and also desirable for gaining wisdom, she took some and ate it. She also gave some to her husband, who was with her, and he ate it. Then the eyes of both of them were opened, and they realized they were naked; so they sewed fig leaves together and made coverings for themselves.
Genesis 3:4-7
Although our eyes are open and we can discern between good and evil, sometimes our conscience is seared in that we don't recognized sin in our lives or realize that it is all around us. God's Word will help open or enlighten our eyes so that sin will be exposed.
The precepts of the LORD are right, giving joy to the heart. The commands of the LORD are radiant, giving light to the eyes. Psalm 19:8
Look on me and answer, O LORD my God. Give light to my eyes, or I will sleep in death; my enemy will say, "I have overcome him," and my foes will rejoice when I fall.
Psalm 13:3-4
Paul's letter to the church in Ephesus:
I keep asking that the God of our Lord Jesus Christ, the glorious Father, may give you the Spirit of wisdom and revelation, so that you may know him better. I pray also that the eyes of your heart may be enlightened in order that you may know the hope to which he has called you, the riches of his glorious inheritance in the saints, and his incomparably great power for us who believe. Ephesians 1:17-19a
When our eyes are opened and we recognize sin in our lives - that we are sinners. Only then will we realize that we need a Savior. Jesus is that Savior! Repentance is choosing to turn away from sin and to turn to God. It's a change of mind that results in action. Turning to God and realizing we need a Savior who can wash away our sins. In illustration, we take our "dirty laundry" to God and Jesus, and let them do the washing!
Repent, then, and turn to God, so that your sins may be wiped out, that times of refreshing may come from the Lord.
Acts 3:19
If you read
yesterday's post
, it talked about Peter addressing a large crowd and telling them the good news about Jesus. During his message, the eyes of the people were opened, they recognized their sin, they were pricked/cut to the heart. They interrupted Peter and asked, "What shall we do?"
Here is Peter's response - his answer to their repentant heart:
Peter replied, "Repent and be baptized, every one of you, in the name of Jesus Christ for the forgiveness of your sins. And you will receive the gift of the Holy Spirit." Acts 2:38
But, although our eyes must be opened to recognize sin and the need for repentance, it is important for us to realize that repentance is not a work we do to earn salvation. No one can repent and come to God unless God pulls that person to Himself (see verse below and also
Acts 5:31
and
Acts 11:18
)
"No one can come to me unless the Father who sent me draws him, and I will raise him up at the last day."
John 6:44
It is impossible to truly and fully change your mind without that causing a change in action. In the Bible, repentance always results in a change in behavior. When the eyes of our heart are opened, we see sin, but we also can see the only One who can take that sin away. God's gift of salvation is only possible through His Son and Our Savior, Jesus.
When the eye of our heart are opened, we can see Jesus.
Prayer for today:
Open my eyes, Lord. Let me see the sin in my life and in the world around me. Also let me see Your Son, Jesus, who You willingly gave to died on the cross for those sins, so that I might have them washed and way and have the opportunity to live with you forever. Thank you for that gift. Help me have a repentant heart, but know that your are the only one that grants forgiveness. Draw me near to You.
In Jesus' name,
Amen