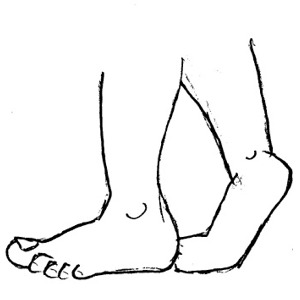 Digging deep into the scriptures is refreshing, challenging, and inspiring. It is impossible for me to ever read through a passage without find something new - even in something I've read many times before. I suspect we're all that way. There's always something new to learn. Isn't that exciting?
Throughout my reading, studying, and writing last week's blog posts in particular, it made me realize that writing a blog makes me realize more and more that I am accountable to you. Proclaiming the message of Jesus Christ is the goal of this blog, and I pray that it is always a blessing to those who take the time to read it. As I say from time to time - don't take what you read here or what you hear or read else where and just accept it for truth. Study God's Word for yourself to make sure what you are reading or hearing is truth - truth according to God's Word, not man's/woman's word.
The Bible is the ONLY source of what is TRUE and RIGHT.
If you ever read a post on "Shine Like Stars" and have questions about it, please let me know. I would be glad to study more with you via the blogosphere!
Here are last week's post I am referring to:
Does It Really Matter?;
Open My Ears, Lord;
Open My Heart, Lord
;
Open My Eyes, Lord
;
Open My Mouth, Lord
; and
Make Me New, Lord
.
The following post is the "end" of this mini series.....that is, unless I add another one tomorrow....then it's not the end. :)
So, about this Walk.....
We need help. Our Christian walk is easy at times, but also hard at times. We can not do it on our own. We need a higher power and, as Christians, we have a higher power. We have God! We have someone to follow - Jesus (
John 8:12
and others)! And, God has given us a helper....a Counselor (
John 14:26
). He has given us the Holy Spirit to help us and to guide us. The Bible even says that when we are at a loss of what to pray for, the Holy Spirit intercedes for us (
Romans 8:26).
Let's look at what the Bible says about our walk as Christians.
1. We only have fellowship with God when we are walking in light. When we do sin (and we all do) and we ask for forgiveness, we will be forgiven. The blood of Jesus purifies us!
God is light; in him there is no darkness at all. If we claim to have fellowship with him yet walk in the darkness, we lie and do not live by the truth. But if we walk in the light, as he is in the light, we have fellowship with one another, and the blood of Jesus, his Son, purifies us from all sin.
If we claim to be without sin, we deceive ourselves and the truth is not in us. If we confess our sins, he is faithful and just and will forgive us our sins and purify us from all unrighteousness. If we claim we have not sinned, we make him out to be a liar and his word has no place in our lives.
1 John 1:5-10
2. God made us to be workers in His Kingdom. In fact, He prepared those things for us in advance. Is that in advance of time, in advance of us being born? Either way, He planned for us to serve Him a long time ago! He wants us to use our talents to serve Him. In our good deeds, we shouldn't strive to receive glory, but rather He is glorified! Our walk should be one of service - always.
For we are God's workmanship, created in Christ Jesus to do good works, which God prepared in advance for us to do.
Ephesians 2:10
In the same way, let your light shine before men, that they may see your good deeds and praise your Father in heaven.
Matthew 5:16
3. We walk by faith, not by sight. If we knew what the future was in regards to our lives, we might be scared. We might be afraid to face whatever we might see. But knowing that God is in control and that He is here for us no matter what....we can face whatever comes our way. Walking by faith is putting our full confidence and hope in Him. He will be our judge and decide where we will spend eternity. We only have one life to live - let's live it for Him!

Therefore we are always confident and know that as long as we are at home in the body (Note: meaning in the flesh...in the world) we are away from the Lord. We live by faith, not by sight. We are confident, I say, and would prefer to be away from the body and at home with the Lord. So we make it our goal to please him, whether we are at home in the body or away from it. For we must all appear before the judgment seat of Christ, that each one may receive what is due him for the things done while in the body, whether good or bad.
2 Corinthians 5:6-10
4. We show our love for God when we obey His commands. And, the Bible tells us that the greatest commandment is to love Him and the second is to love our neighbor as we love ourselves. Sounds simple enough, doesn't it? But, quite frankly, it's sometimes hard to love the way God wants us to love.
And this is love: that we walk in obedience to his commands. As you have heard from the beginning, his command is that you walk in love.
2 John 1:6
A new command I give you: Love one another. As I have loved you, so you must love one another. By this all men will know that you are my disciples, if you love one another."
John 13:34-35
"Teacher, which is the greatest commandment in the Law?" Jesus replied: " 'Love the Lord your God with all your heart and with all your soul and with all your mind.'

This is the first and greatest commandment. And the second is like it: 'Love your neighbor as yourself.'
Matthew 22:36-39
The whole chapter of
Romans 8
talks about how the Holy Spirit helps us in our Christian walk. Take the time to read it. It talks about how when we are living by the Spirit we will not be living according to the sinful nature. If we allow our lives to be controlled by the sinful nature, we are not pleasing God. We're not being obedient to His Will.
On this Gratituesday, I am thankful for the help God gives to Chrisitans in our daily walk. Remember, there is no way to do it on our own! Rely on God, Jesus, the Bible, and the Holy Spirit. Then, and only then, will we be submitting to Him.